There's a magical question that can help you be more open-minded and curious.
Does this sound familiar:
Someone you know very well starts talking and something triggers a thought of 'here they go again...' or 'ah yes, same old, same old'
Someone you don't know starts talking and something triggers a thought of 'I know what they're going to say next...' or 'I really have to set them straight'
And usually we're partly right - at least thing things turn out like they always have: we get into an argument, we do not listen, we respond in the same habitual ways.
There's a magical question that can create something new, unexpected, perhaps productive.
This question is magical because it's powerful, yet seems so ordinary.
Here it is:
What is here that I have never noticed before?
Imagine asking yourself this when:
A political rival shares their perspective
At a campaign event, a citizen uses certain words that 'trigger' you
A well-intentioned supporter shares advice that you don't like or find helpful
The question helps:
Be more curious, open-minded, looking more broadly at a situation
Playfully explore beyond the obvious (rather than assuming 'been there, seen that, done that')
Be more mindful, in the moment
Correct biases, by going beyond our first impulse
Give a chance to connect in new ways, perhaps more deeply, with others
The question is taken from the book 'The Good Life', by Harvard scholars Robert Waldinger and Marc Schulz.
p.s. 👇 below, find the latest podcast, what I'm currently reading/listening to and my favourite quote this week
🎙️ My latest podcast
Quick questions:
What's 1 thing you like about the podcast?
What's 1 thing you'd change about the podcast?
💌 If you send me your quick thoughts to daniel@politicwise.org, it helps me improve the podcast, thanks a lot! 🙏
The podcast is on pause over the summer. I'm working on new exciting conversations and changes to the podcast.
The last episode:
📚 What I read & listen to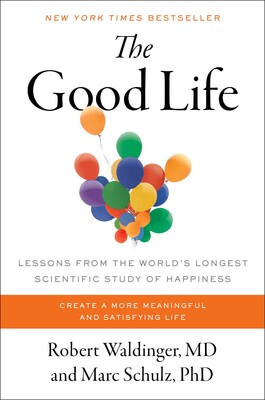 🖋️ My favourite quote
Angel fly because they take themselves lightly - Alan Watts